Megasquirt™ is a registered trademark of Bruce Bowling and Al Grippo.
So you're building a Megasquirt and youre looking for components. All those American components hard to find in Australia? Well, we have found the Australian equivalents (rare as they are) and stocked up on them.
We offer these hard to find components in our store under Megasquirt Parts. Soon we will be providing other Megasquirt and DIY EFI parts on our site to help develop and nuture the Megasquirt DIY community in Australia and New Zealand.
PCB Layout
The PCB Layout for Megasquirt V3.0 is shown below: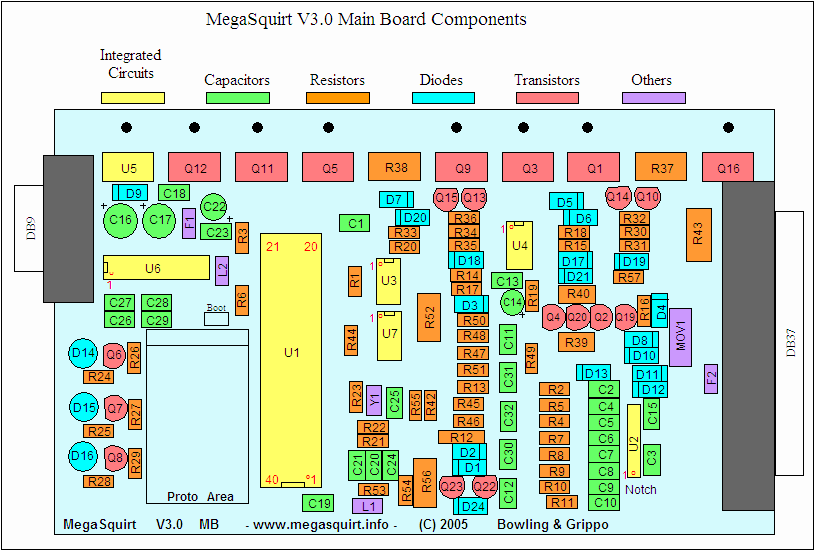 The hard to find components are:
F1, F2

:  Raychem RXEF050 0.50A Polyfuse


interchanges with RDE050,RXE050,RXEF050

MOV1

: Harris 100J MOV Metal Oxide Varistor


upgrade/replacement for ERZ-V20D220

Q1, Q5

: IRFZ44N Hexfet Mosfet


29A upgrade over the IRFIZ34N or IRFI34G or IRFIZ34GPBF

U4

: Motorola MC34151P High Speed Dual Mosfet Driver


MC33151 or IXDI404PI replacement
We accept suggestions as to what else you might need.
Please contact us with your request using the
Contact Us
page.